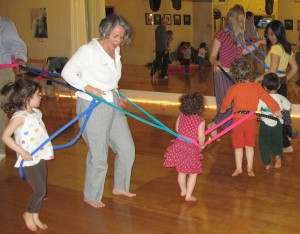 Movement Workshops:  I will create a movement workshop for your group of six or more, on applying movement and body awareness to any topic you would like to explore.  contact me to brainstorm
Family Dance for Groups:  I will am available to do family dance style events for groups and I continue to see adults and children in my private practice for work in developmental movement, embodiment and experiential anatomy and movement coaching.
Chronic Pain Support Group:  1st and 3rd Wednesdays 11am to 12:30.  Join me and others who are exploring new possibilities for enjoying live when you have chronic pain. Read more about this group here.
Contact me to talk about this group.