If you are new to Authentic Movement let me say that it is one of my favorite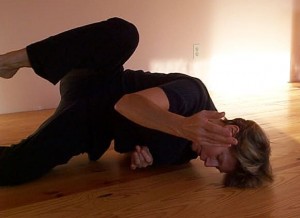 dance/movement therapy forms; I find it connects me to lost parts of myself and gives them voice to express. This practice creates an opportunity for your body to lead the way; and leaves you feeling more alive and connected with your whole self.
Monthly Authentic Movement Workshops. Next one Sunday March 22 from noon to 4pm. Cost $50 If you would like to join or have further questions, please Contact me
Participants utilize Authentic Movement in different ways to meet their needs. For some it is a meditative spiritual practice, or a mindfulness practice, others use it as a "counseling session", or as a clearing of the palette, or even as conscious stillness, a place where you don't have to "do" anything.
I facilitate sessions in Authentic Movement for individuals and couples with sensitive, supportive guidance; I also lead Authentic Movement classes and workshops.  I hold a safe container which allows you to experience the surprises of your beautiful complexity.
The roots of Authentic Movement begin with Mary Whitehouse, a dancer, teacher and dance therapist who  developed an approach to improvisation which she called "movement in depth." Janet Adler studied with Mary Whitehouse and in the1970's formalized a set practice which is called Authentic Movement. My study of this form comes through her lineage. The form of Authentic Movement designates two roles, one as a mover and one as a witness.  The mover follows impulses by listening to deepest levels of kinesthetic reality. The witness holds responsibility for attentive listening/seeing the mover.  This creates a safe space to follow your body's impulses as they unfold. These impulses for movement and stillness arise from the non-conscious self. As a safe container with known expectations and responsibilities Authentic Movement allows you to experience the the unspoken.
Website: www.authenticmovementcommunity.org