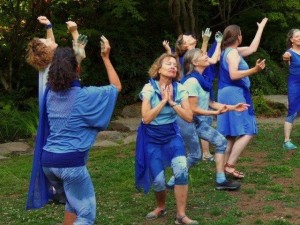 We had a wonderful event in Olympia and plan to do it again June 24 2017.  Check globalwaterdances.org for pictures and videos from around the world.
From the Source to the Sound, this is a dance on the move, just as our water is. We begin at Moxlie Springs Basin in Watershed Park at 5pm on Saturday June 20, with an opening blessing of spring water. Next we use the mixed waters and bless each other. Following the creek through the park and to the Trail head at the Woodland trail on Eastside Street, to watch some solo dances. Then onto city streets to Indian Creek out flowing from a pipe where participants can float water wishes on daisy heads. Following the path of the creek which is under pavement we will joining others at Yashiro Japanese Garden  where the Global Water Dance choreography will be performed, followed by audience participatory dance. After the dances, we walk/dance/sing to East Bay Waterfront Park. Here Moxlie Creek comes out of a culvert and joins the Sound. We will have a participatory closing ceremony as the tide goes out, carrying our blessings with it.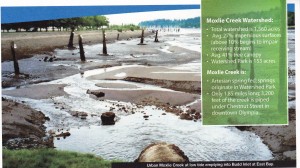 Sign a petition to restore Moxlie creek, click the photo of the creek.
Connect with globalwaterdances.org for info and videos from around the world.
Moxlie Springs had been the city of Olympia's water source from settlement until the 1950's. It begins as an artesian spring and flows northward towards Puget Sound. Along its course it's joined by more springs and groundwater from the forested wetlands of Watershed Park. After leaving the park, the creek is piped under Interstate-5, then along and under city streets. Indian Creek joins Moxlie Creek inside a 6 foot pipe traveling underground 2/3 mile to Puget Sound. A network of stormwater pipes that carry the runoff from the roads, parking lots and roof tops of downtown Olympia join these creeks. Finally the pipe discharges the ancient artesian fresh water, Indian Creek, and today's polluted runoff into Salish Sea (Puget Sound). As an underground creek Moxlie is unseen and unknown to many as they drive, walk and work over it. Moxlie is typical of the salmon runs once so prevalent along the Puget Sound which fed thriving interdependent estuaries. It is our hope that learning about this creek under the city will increase a commitment to bettering local waters.
For more on our 2011 event see Gloabal Water dances by Robert F Whitlock